In Sonniuspark, a residential expansion area in Son en Breugel within the Brainport region, we made a design for a family home with clear form characteristics and a lime wash facade material finishing. The massive walls of tumbled bricks in white lime wash and the overhanging roof with large roof extensions emphasize the pronounced building volume, with various openings in the facade and roof initiating the strong connection between house and garden.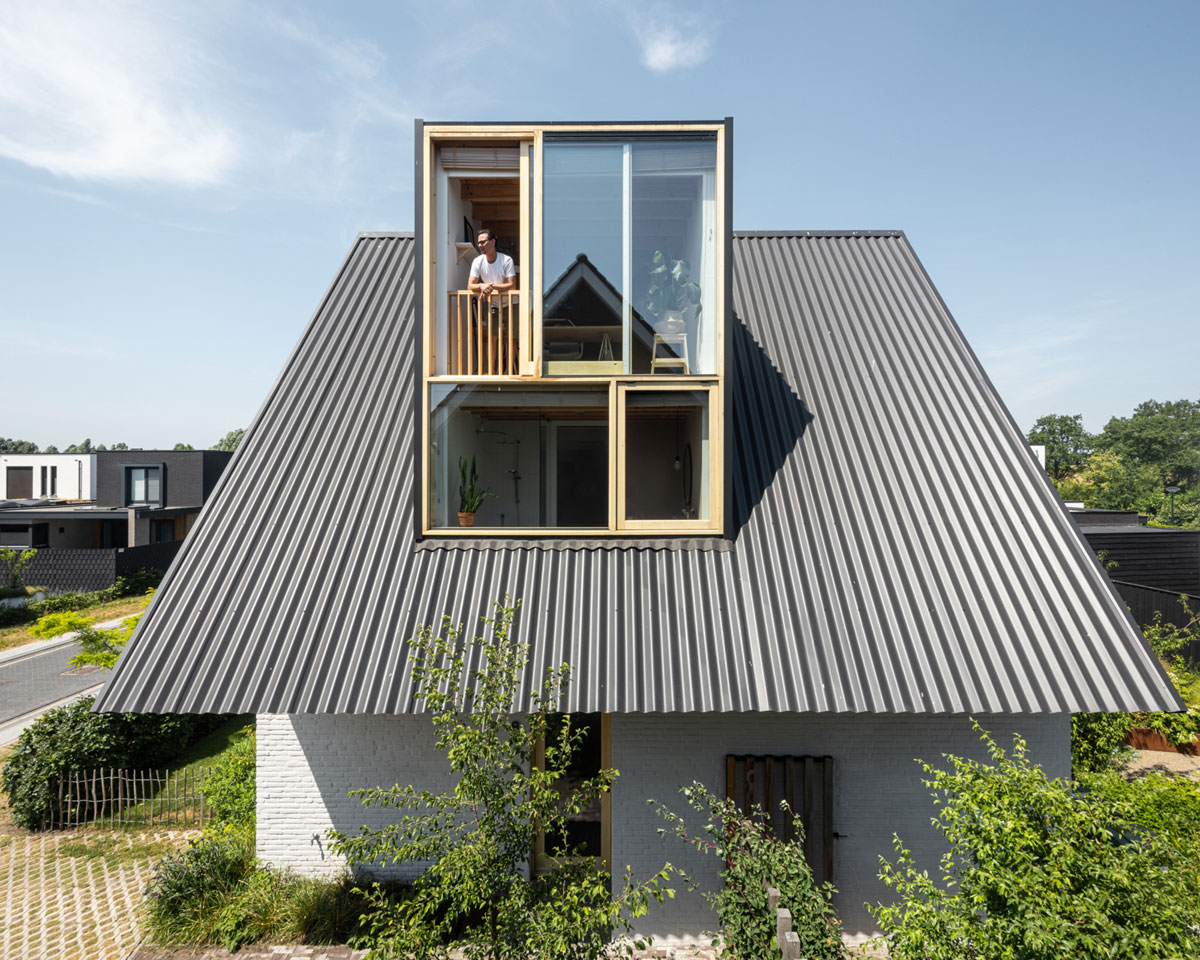 The plots with detached houses in the street are of modest size. By positioning the building volume in the middle of the plot, the house is surrounded by the garden en does not stick to the outbuildings of the adjacent plots. Any time of the day, pleasant places arise in and around the house through the interaction of inside and outside. The living room on the south is connected to the front garden, the entrance on the east side is green and inviting under the roof and on the north side the garden has a sunken sitting area. The north-west corner of the house can be opened completely. In this way the dining room and an outdoor terrace become one space.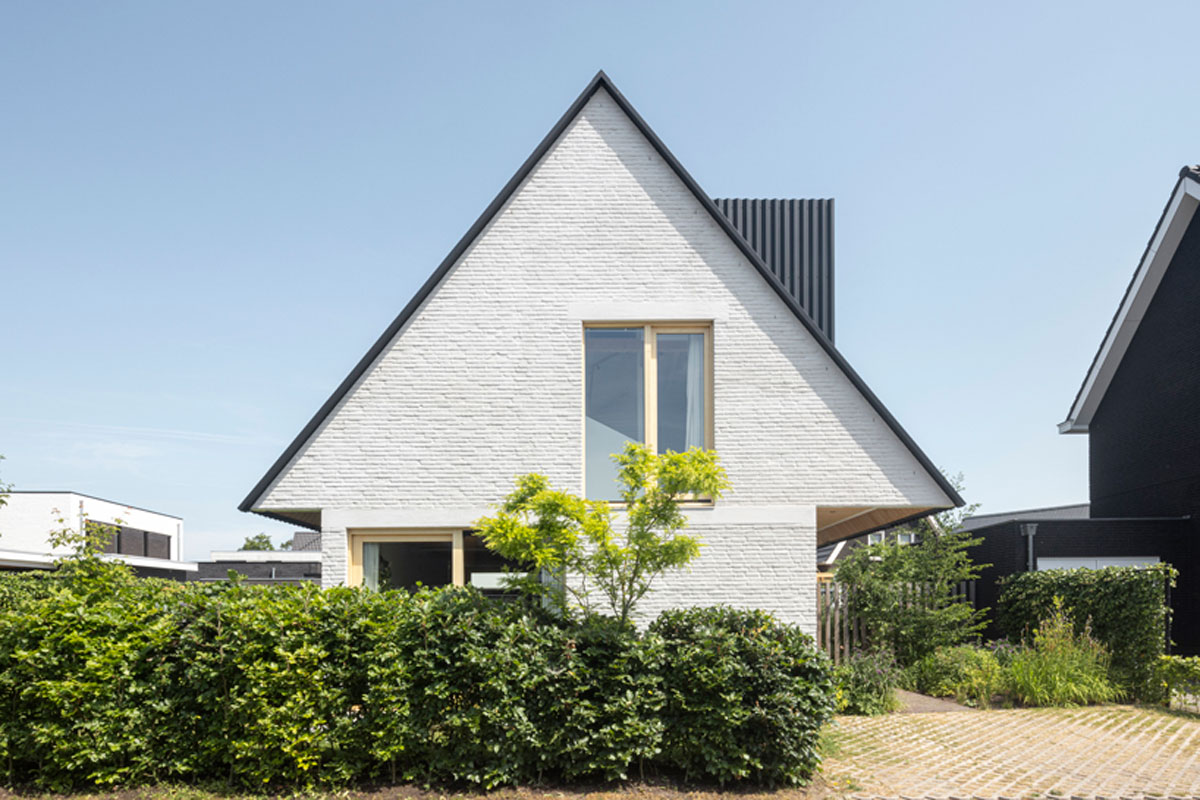 The garden, designed by Frank Heijligers, has very diverse planting and has a logical connection to the design outlay of the house. The overhanging roof has no gutters. All water from the roof goes straight to the garden, precisely where the flower beds are positioned. The design invites to discover new places in the garden around the house at different times of the day.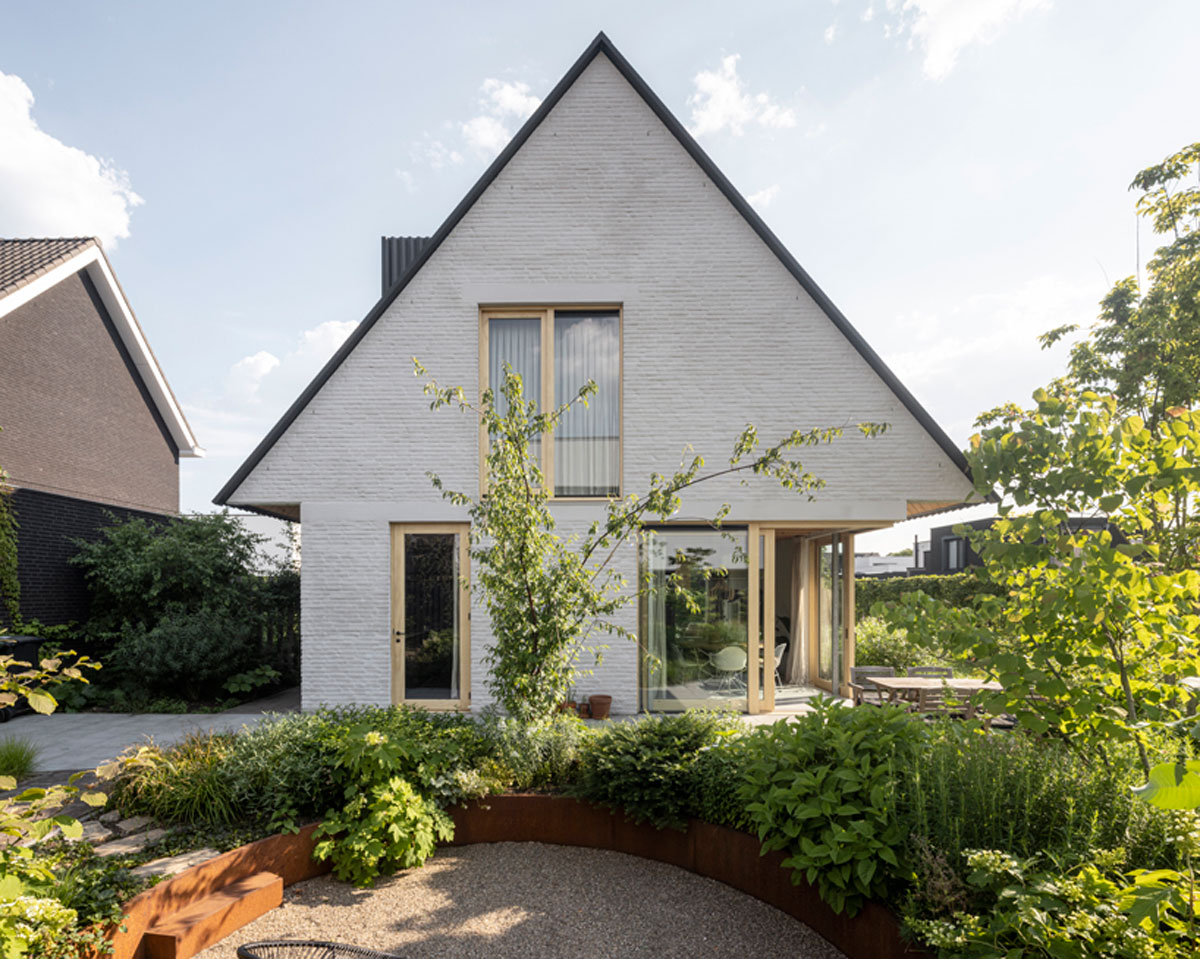 The overhanging roof is a characteristic form element of the house. The roof largely defines the appearance of the street and garden facade, expands the usable volume and space on the upper floors of the house, but also marks the dry walks on the sides and inviting entrance.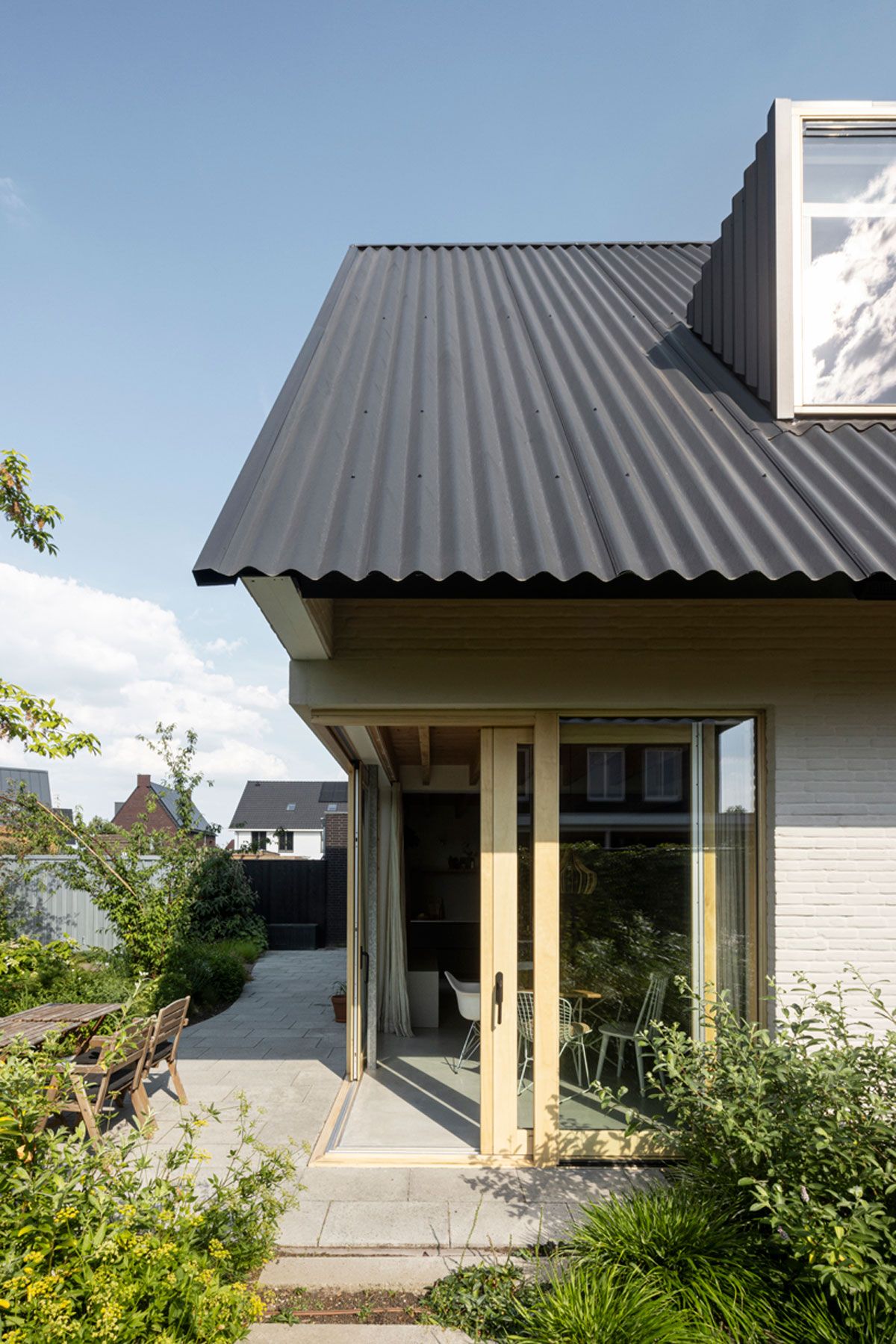 The house has a modest footprint on the ground floor where the interaction between inside and outside enhances the spatial experience on the plot. Due to the central position of the stairs, the floors are smartly organized with spacious bedrooms, a bathroom and a study. The two extensions in the roof increase the space on the upper floors. The roof extension on the east side offers light and space in the bathroom on the 1st floor and the study in the attic. The study in the attic is in open connection with the stairs and hall on the lower floors. The centrally located stairs act as a core on each floor that can remain in open connection with the surrounding spaces if desired. In this way, the organization and layout of the house works the same as the garden outside: the open design invites you to discover new places in the house at different times of the day.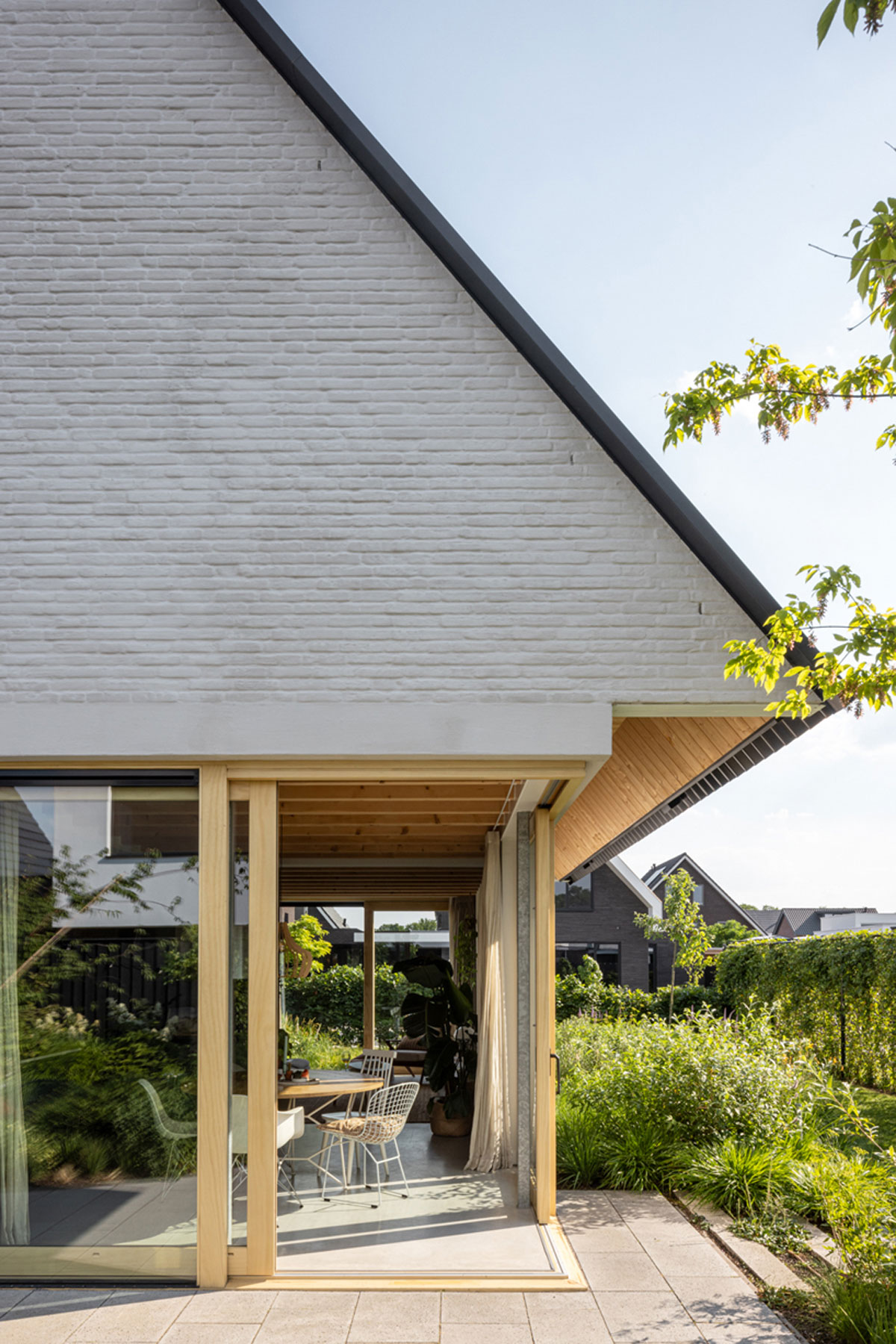 Project info:
Client: Family Edens Don
Architecture design & interior design: Chris Collaris Architects
Landscape design: Frank Heijligers
Structural engineer: Vissers & Vissers B.V.
Contractor: Hagoort Bouw B.V.
Copyright images: Tim van de Velde
Project facts:
Lime wash by Gevers & Teeuwen stukadoors, Keim Nederland
Accoya window frames by Timmerfabriek van den Brink
Falck sandwichpanels roof by Heijboer bouw en montage